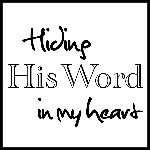 I found myself in a stalemate with Philippians.  I was doing really well when dad was sick…it's almost as if when things get tough I rely more on God than when things are good….hmmm….that may be a whole 'nother blog post.
Anyway- I was discouraged at my lack of progress in  memorizing the Essentials of Philippians after I had been doing so well memorizing it.  I know my attitude and spirit were more God centered when I was meditating on His Word more often.  I opened my email and I had a post from Katie's blog Do No Depart.  I got so excited when I read that she was issuing a new challenge for Hide His Word that I immediately tweeted my allegiance.
I know I'll come back to Philippians (after all I'm using it as my default study and really digging into it).  But this chapter in Psalms gives new life to my memorization efforts and Katie's tools are wonderful!!!
So this am during my quiet time, I started on Psalm 143
I'm starting on August 4th instead of August 1st, but Katie built some time into the schedule.  I'm looking forward into memorizing these words with all my online Sister Friends!!!
Check out all the gals Hiding His Word at Do Not Depart!!!